At a glance
Gain practical work experience working in a rehabilitation department of a hospital in Guadalajara.
You will shadow and help local physiotherapists with their daily tasks and the treatment of both adults and children.
You'll stay with a local host family in Guadalajara and be immersed in Mexican culture; making this project a brilliant opportunity for cultural exchange.
18 or over
You need to speak basic Spanish.
Is a Physiotherapy internship in Mexico right for me?
Do you want to gain practical work experience in the physiotherapy field? Do you want to work alongside and learn from qualified professionals? Are you eager to travel and experience life in Mexico? If you answered yes to these questions, this internship is ideal for you!
Our Physiotherapy internship in Mexico will give you valuable work experience to add to your CV. You'll learn how treatments are carried out in the rehabilitation department of a hospital. If you already have some experience, this will give you a deeper understanding of how physiotherapy is practiced in a developing country.
You don't need to have previous experience or training to join this project. You do need to speak basic Spanish, as not all staff members and patients can speak English. You also need to be at least 18 years old. Please be aware that your level of experience and training will define your exact role, and how much hands-on work you can do.
This project runs all year round and you can join at any time from a minimum of two weeks. We recommend that you stay longer so that you can see and learn more.
What will I do as a Physiotherapy intern in Mexico?
As a Physiotherapy intern in Mexico, you'll shadow a qualified physiotherapist at a hospital and assist where necessary. If you have enough experience, you can work with disabled children. Here are some of the tasks you can expect to help with during your internship:
Observe qualified physiotherapists working in the rehabilitation department of a city hospital
Help with daily tasks and provide treatment if you have enough experience and training
Provide therapy and care for disadvantaged children with disabilities
Your work will focus on the following three areas:
Observe local physiotherapists as they treat patients
You will be placed at a hospital in Guadalajara, where you'll shadow professional physiotherapists as they treat patients in the rehabilitation department. You'll see how different illnesses and conditions are treated, and how these treatment methods differ from those used back home. We encourage you to ask lots of questions about what you see, and take detailed notes so you can have a record for yourself.
Provide treatments to patients and assist with daily tasks
If you have experience and training, you may be permitted to assist physiotherapists as they work with patients.
This will include preparing equipment, updating patient treatment files, and checking in with patients among other daily duties.
Work with disabled children
If you have enough experience you can provide treatment to disabled children at a local school. Many of the centres for disabled people in Mexico receive limited financial support. This means that patients don't always get all of the treatment and care they need. By participating in this internship programme, you'll be able to help disabled children who otherwise may not receive enough professional care and treatments.
Where in Mexico will I be working?
Guadalajara
You will be placed at a hospital and/or special needs school in Guadalajara, Mexico. You will work in the rehabilitation department of a city hospital. If you have enough experience, you may also get to work with children at a school for those living with disabilities.
Most healthcare facilities in Guadalajara are relatively well equipped. Although hospitals in Guadalajara are closer to European standards than those in many other destinations, they are still very busy.This is a great opportunity to see how physiotherapists work in different countries and how treatments may differ.
Cosmopolitan and energetic, Guadalajara is the second largest city in Mexico. Guadalajara is one of the most beautiful cities in Mexico. It is filled with leafy greenery, cobbled streets, and magnificent architecture. Renowned for its cultural and culinary scenes, the bustling city centre is relatively modern.
What will a typical day on a Physiotherapy placement in Mexico include?
Your day will begin with breakfast with your host family. Once you are fed and ready for the day, you will then catch a bus to your hospital placement. A Projects Abroad staff member will accompany you on your first day and show you the way.
Once at the hospital, you will meet with the physiotherapist that you will be shadowing. You will then accompany them throughout their day. You will observe them going through their daily tasks. This may include preparing equipment, making patient notes and, of course, providing treatment to patients. Since you will be doing a lot of observing, it's a good idea to keep a notebook with you so that you can make notes throughout the day.
Depending on your level of experience, you may be given more responsibility. In this case, you'll be able to help your supervising physiotherapist provide treatments and make treatment notes.
If you are an experienced physiotherapist, the content of your days will be slightly different as you may be working at a school for children with disabilities. The format of your working days will be much the same. However, instead of shadowing physiotherapists at a hospital, you will assist with the daily therapies given to children with muscular damage.
You will have a lunch break where you will be able to head back to your host family for a midday meal, or enjoy a packed lunch and a break from patient rounds at the hospital.
At the end of the work day you will be free to relax and explore the city. Stroll through a market, have a drink with some friends, or head back to your host family for dinner.
What are the aims and impact of this project?
The aim of this Physiotherapy internship in Mexico is to give you the opportunity to learn directly from qualified physiotherapists.
Many of the hospitals in Guadalajara are very busy. By taking part in this programme, you will be able to provide a much needed helping hand to local physiotherapists treating patients in rehabilitation departments. Additionally, many centres that accommodate people with disabilities lack funding. This means that patients often lack the support and healthcare that they need. Providing children in this situation with access to necessary treatments is another aim of this project.
Living and working in Mexico will give you insight into how physiotherapy treatments are conducted in other countries and will give you the opportunity to learn about a new culture and traditions. Through medical and cultural exchange, you will leave Mexico with a new perspective, both professionally and personally.
In general, we are working towards four long-term goals outlined in our Medical Management Plan. These are to:
Encourage an understanding of medical practices and promoting an exchange of medical knowledge
Improve access to basic healthcare for disadvantaged groups
Promote awareness of non-communicable diseases
Improve the quality of specialised or alternative healthcare provided
Help us achieve these long term goals while gaining invaluable physiotherapy work experience in Mexico.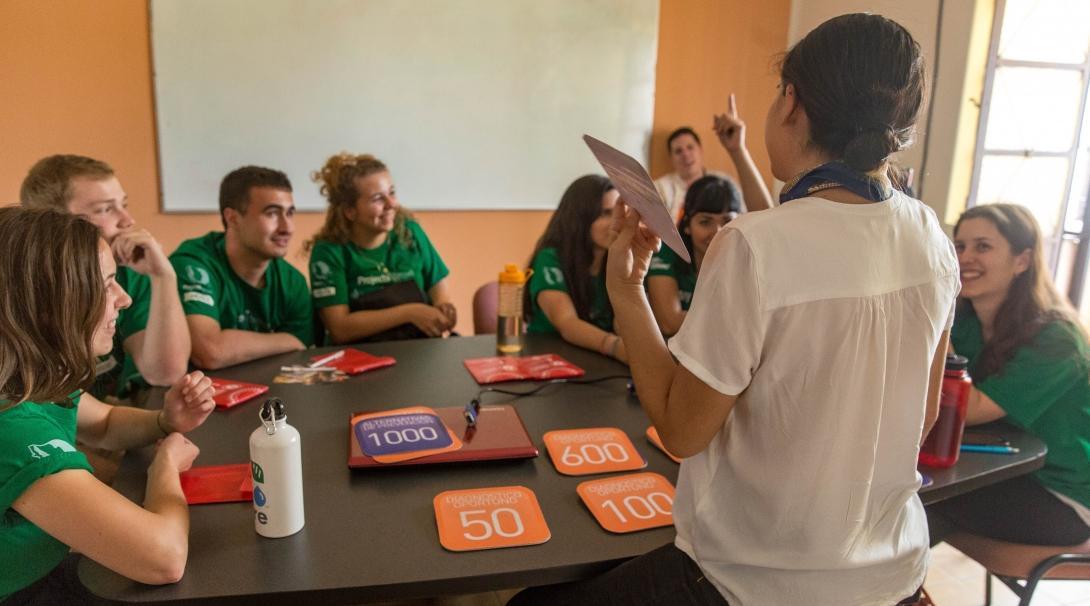 Medical electives for students
This project is also perfect for university medical and healthcare elective students. The real-world insight and knowledge you gain will help shape you as a future medical professional. You will also learn to work with different people and get a broader perspective of global healthcare systems and issues. This benefits your career for years to come. We can organise a placement that meets all of your university's requirements.
Management plans
We set out the aims and objectives of our projects in documents called Management Plans. We use them to properly plan the work you'll do. They also help us measure and evaluate our achievements and impact each year.
Ultimately, our Management Plans help us make our projects better. This in turn means you get to be part of something that makes a real impact where it's needed. Read more about our Management Plans.
Measuring our impact
Our projects work towards clear long-term goals, with specific annual objectives. Every volunteer and intern we send to these projects helps us work towards these goals, no matter how long they spend on our projects.
Every year we take a step back and look at how much progress we've made towards these goals. We put together a Global Impact Report, which documents our achievements. Find out more about the impact our global community of volunteers, interns and staff make, and read the latest report.
Food and accommodation
You'll stay with a host family in Guadalajara. They'll welcome you into their home, eager to share their customs and learn about yours. This is the best way to immerse yourself in the culture of Mexico and have a unique experience.
We'll try to ensure you live with other Projects Abroad volunteers or interns at the same host family. Your room will be modest, but comfortable, clean, and safe.
Your programme fee includes three meals a day. This is great news because nothing beats authentic Mexican food. Get ready to sample the most delicious tacos, enchiladas, and quesadillas.
Find out more about our accommodation.
Leisure activities and free time
With beautiful beaches, arresting art galleries, and buzzing restaurants, there's something for everyone in Mexico. You'll have plenty to do during your free time on your project in this dynamic country.
There's something captivating about touring through old buildings. If you're into neo-gothic architecture, treat yourself to a trip to the Templo Expiatorio del Santisimo Sacramento. It's a work of art with its ornate steeples and glowing stained glass windows.
There are also plenty of museums, giving you the chance to immerse yourself in the country's rich history. For something different, you can spend the day appreciating the wildlife and lush vegetation of Las Peñas Ecological Park.
You can't take a trip to Mexico without tasting authentic Mexican cuisine. You can spend an evening enjoying pozole or tamales at a local restaurant and watching the vivid orange-red sun melt into the horizon.
We have a host of different projects in Mexico so there'll likely be lots of other volunteers in the area during your trip. So you can choose to travel and explore in a group or on your own.
Safety and staff support
Your safety and security is our prime concern. We have many procedures and systems to ensure you have the support you need to enjoy your trip with peace of mind. Our Projects Abroad staff are available 24 hours a day to help, and will be on-hand to make sure you settle in well at your accommodation and placement. If you encounter any problems, they will be available to help at any time.
Find out more about safety and backup.
Not quite what you're looking for?
Take a look at the following pages where you'll find collections of similar projects: