Discover what you're capable of
Projects Abroad is the world's largest provider of international volunteering, internships and meaningful travel experiences. We've been running for over 30 years and have been trusted by over 130,000 participants who've joined our award-winning trips.
As champions of Responsible Travel, all our volunteer projects work towards the United Nations Sustainable Development Goals. This means you're helping to work towards a better and more sustainable future for all.
While you're making an impact, we make sure you do so safely. Safety is at the heart of everything we do, so we never outsource your welfare to others. When you book with Projects Abroad, you're with Projects Abroad from start to finish. Why is this a good thing? Because we take full accountability for what we do from the moment you first contact us, until the moment you return home.
We truly believe that travelling abroad should be easy, fun, and rewarding. That's why we take care of everything, so you can focus on making the most of your time abroad. Whether it's our impactful volunteering projects, structured internships, High School Specials, Ethical Consumerism trips or Authentic Adventures, you'll be sure to get the Projects Abroad gold standard of staff support.
So come and join us. Learn new skills, meet new people, make a real difference, and have the experience of a lifetime.
We cannot wait to help you find out what you're capable of.
Gold Standard of Support
Safety is everything to us and has been for over 30 years. We wouldn't dream of contracting-out your safety to third parties, as some do. Instead, we employ, thoroughly vet, and train all our own staff. Together, we provide a world-class support network to help you thrive.
Hassle-free approach
We take care of everything, so you don't have to. Shopping around for insurance, organising airport pickups, and finding safe, clean accommodation all takes time and extra money. We take care of it all for you, and it's included in the price as standard.
Make a Real Impact
This isn't just a holiday and we don't want to waste your time. That's why we invest in planning, measurement tools, and training resources. This means any project you choose is meaningful and creates real, positive change where it's needed the most.
I was very grateful to have the support of Projects Abroad; with their help, a scenario that could've been stressful and challenging became one of the most rewarding and memorable experiences of my seven months abroad, and I would definitely like to come back to do another project in the future.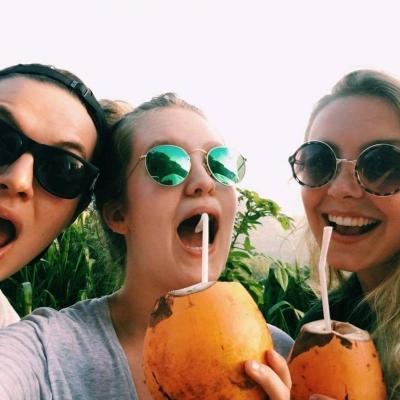 I would highly recommend Projects Abroad to anyone as they're well organised and take the stress off of you especially when you have to travel far from home. It's comforting knowing they're always only a phone call away if anything goes amiss.
Don't believe words can truly describe the unforgettable experience I had. From the people, cultures and trips, the memories I gained will forever remain with me. Not once did I feel unwelcome and Projects Abroad worked very hard to make sure everyone felt safe and happy.
Can't find what you're looking for?
We'd be happy to talk about creating a custom project for you. Most of our staff have been volunteers themselves, so they're well placed to answer your questions, big or small.
Call one of our experts on:
+44 (0) 1273 007230
Get in Touch
Meet Us
We love meeting up with people to talk about our projects and give advice. If you'd like to meet us in person, see the options below:
One on One
Meetings
We have staff in the UAE who are always available to meet you. We can also arrange for you to meet former Projects Abroad volunteers.
We'll arrange a meeting at a time and place that suit you.
Career fairs
and presentations
We regularly attend Careers Fairs and do presentations at schools, colleges, universities, and businesses across the country.
See where we've been recently and arrange for us to come and share our passion for volunteering with you.
Trip Formats
Our projects come in different styles and packages so you can choose a trip that suits you:
Tailor-made Group Trips
Volunteer with a School, University, Guide, Scout or Corporate Group
If you're looking to volunteer with 5 or more friends or colleagues, we can provide a bespoke project to suit your exact requirements, including evening and weekend activities and a tailor-made itinerary.
Read More
Some of the media Projects Abroad has featured in: