Volunteer in Nepal with Projects Abroad and take part in work that serves the needs of the local community. You'll have the opportunity to immerse yourself in Nepalese culture while being part of our ongoing efforts to support disadvantaged people.
You can help to rebuild schools and homes which were damaged in the 2015 earthquake, or support the educational development of young children. Why not spend some time high in the countryside, conducting wildlife research? There are also many options for those interested in medical internships, ranging from dentistry to nursing.
We work in several different parts of Nepal, including Kathmandu and Chitwan. Our full-time staff in Nepal are there to support you 24/7 if you need it, wherever you're based.
Nepal is a small yet spectacular country with so much to offer visitors. It has a rich history, with many colourful festivals and sacred religious sites. The country is probably most well-known for its snow-capped mountains, which offer breathtaking views. Seize the moment and soak in the sights and sounds for the experience of a lifetime!
Projects available in Nepal
1-3 of 16 Projects
Medical Internships in Nepal for Teenagers
See this project
Price:

7,820 AED for 2 weeks

Extra Weeks:

1,645 AED

Start Date:

During school holidays

Minimum Duration:

2 weeks

Age:

15-18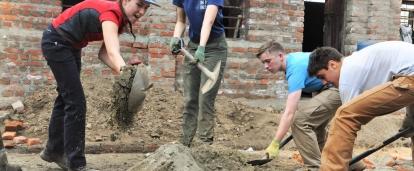 Building Volunteer Work in Nepal
See this project
Price:

6,195 AED for 1 week

Extra Weeks:

1,165 AED

Start Date:

Anytime

Minimum Duration:

1 week

Age:

16 or over
Volunteer with Children in Nepal
See this project
Price:

6,160 AED for 2 weeks

Extra Weeks:

865 AED

Start Date:

Anytime

Minimum Duration:

2 weeks

Age:

16 or over
Load More
Can't find what you're looking for?
We have the expertise and staff on the ground to create a custom project for you, or simply help you find the best option.
Speak to one of our Nepal experts on:
+44 (0) 1273 007230
or email:
Get in Touch
to start planning your project
Where we are based in Nepal
You can do volunteer work in Nepal in several different locations, such as Kathmandu or Chitwan.
Kathmandu
Bright and bustling Kathmandu is Nepal's economic and cultural capital. It has elements of both modern and traditional life, making it a fascinating place to explore. Pay a visit to ancient temples and monasteries, pick up some souvenirs at the local bazaar, or go on a hike to admire the scenery from new heights.
Chitwan
Chitwan is a district located around a six to seven hour drive from the capital Kathmandu. It's most famous for its national park, the country's first, which is also a World Heritage Site. Apart from its amazing natural wonders, you can also explore small local villages and picnic along the Narayani River. We encourage you to sample some local cuisine, like "taas", a spicy fried goat dish.
Safety and staff support
Your safety and security is our prime concern. We have many procedures and systems to ensure you have the support you need to enjoy your trip with peace of mind. Our Projects Abroad staff are available 24 hours a day to help, and will be on-hand to make sure you settle in well at your accommodation and placement. If you encounter any problems, they will be available to help at any time.
Find out more about safety and backup.