Do a volunteer Building Project with Projects Abroad and bring important resources to communities that need them most.
Our Building Projects take place in developing countries all over the world. Some are in rural areas, others in cities. You could be building homes, schools, care centres, sanitation facilities, or community buildings. Many of these Projects are based in places affected by natural disasters. Your work might include making bricks, laying foundations, plastering, painting, and installing windows and doors.
All these projects are sustainable and are designed so that the work you do is continued by locals when you go home. You'll be immersed in the local community and have the chance to get to know the people you're helping.
This experience is a safe and sociable way to give back where it's needed, while building your own confidence and understanding of global issues.
Choose a Building Project
1-3 of 5 Projects
Building Volunteer Work in Ghana
See this project
Price:

6,795 AED for 1 week

Extra Weeks:

1,165 AED

Start Date:

Anytime

Minimum Duration:

1 week

Age:

16 or over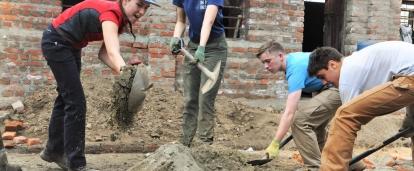 Building Volunteer Work in Nepal
See this project
Price:

6,195 AED for 1 week

Extra Weeks:

1,165 AED

Start Date:

Anytime

Minimum Duration:

1 week

Age:

16 or over
Volunteer Building in Nepal for Teenagers
See this project
Price:

7,820 AED for 2 weeks

Extra Weeks:

1,645 AED

Start Date:

During school holidays

Minimum Duration:

2 weeks

Age:

15-18
Load More
Can't find what you're looking for?
We'd be happy to talk about creating a custom project for you. Most of our staff have been volunteers themselves, so they're well placed to answer your questions, big or small.
+44 (0) 1273 007230
or email:
Get in Touch
to start planning your project
Is a volunteer Building Project right for me?
If you're passionate about helping communities recover from disasters and overcome challenges, a Building Project is right for you. This work is for anyone who genuinely wants to pitch in and be part of a solution for communities that are facing the challenges of natural disasters and poverty.
As a construction volunteer abroad, you'll be working alongside local experts, Projects Abroad staff, and committed volunteers from around the world. You can join us even if you don't have previous construction experience; you just need to be fit enough to do manual work and have a can-do attitude.
Some of these projects run in communities recovering from natural disasters like hurricanes and earthquakes. By working here you'll developing a better understanding of disaster relief while building important infrastructure.
If you're interested in helping communities build infrastructure, but feel a Building Project isn't right for you, you may be interested in our International Development internships. Read our full list of projects for volunteering abroad.
What will I gain from volunteer building work abroad?
By doing construction volunteering abroad, you'll give back to a community that needs help while developing your own skills.
Here are just some of the benefits that our previous volunteers talk about:
Soft skills like teamwork, leadership, resilience, organising, planning, and time management.
An understanding of sustainable international development.
Technical construction skills.
The ability to work and empathise with people of different cultures and backgrounds, helping to develop a 'global mindset'.
Confidence from pushing past your comfort zone.
All of the above will enhance your CV, UCAS applications, and your personal development.
Why does this project matter?
Some of the most important work that needs to be done in developing communities is setting up basic infrastructure. Helping communities through building will allow locals to continue with your efforts even after your volunteer work has ended.
How are Projects Abroad's Building Projects different?
At Projects Abroad, our first aim is to benefit the communities we work in. You can be assured that your project is ethical, well supported and part of a better future. Here's just a few elements of our work that set it apart from other volunteering programmes:
Be fully supported by staff
On these projects, you'll work alongside experts, members of the local community and Projects Abroad staff. You'll also be part of a wider network of volunteers.
Hands-on experience and practical skills
Our volunteers carry out their own tasks that are important for the overall project, so you can be sure you're making a valuable contribution.
Projects that have an impact
All our projects are well researched, targeted and sustainable. We aim to make a difference to the local community for the long term.
Not quite what you're looking for?
Take a look at the following pages where you'll find collections of similar projects: