Travel abroad and become a source of inspiration in our Youth Development Volunteering Projects by helping shape the young minds of the 21st century.
You'll be involved with:
Equipping children with skills and confidence to make good decisions
Organising debates and other fun educational activities
Sporting events and teaching children teamwork
Assisting with the development of these children is a good way to understand the problems they face. Our Youth Development volunteer programs abroad will give you the chance to make a long-term impact on the future of these kids. Your help will improve their confidence as you interact and learn about each other's cultures.
You'll stay with local host families and experience what being in a new country is really like. On the days you aren't working you can explore the city or go on guided tours. You'll also meet volunteers and other like-minded individuals with whom you can share stories.
Choose a Youth and Community Development Project
1-2 of 2 Projects
Volunteer for Youth Empowerment in Ghana
See this project
Price:

7,960 AED for 2 weeks

Extra Weeks:

1,165 AED

Start Date:

Anytime

Minimum Duration:

2 weeks

Age:

16 or over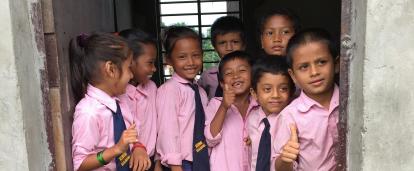 Youth Empowerment in Nepal
See this project
Price:

7,060 AED for 2 weeks

Extra Weeks:

1,015 AED

Start Date:

Anytime

Minimum Duration:

2 weeks

Age:

16 or over
Can't find what you're looking for?
We'd be happy to talk about creating a custom project for you. Most of our staff have been volunteers themselves, so they're well placed to answer your questions, big or small.
+44 (0) 1273 007230
or email:
Get in Touch
to start planning your project
Is a Youth and Community Development Project abroad right for me?
A Youth Development Project abroad is a great fit for you if want to be part of the positive growth of children. You'll get hands-on experience on running campaigns and development programmes that aim to educate and involve children in all sorts of activities. These include sports, exploring their creativity, helping them understand conservation, and setting goals.
You need no experience to join and you'll work alongside qualified teachers and professionals. They'll appreciate the extra help. You'll need to manage your time well while on the project and have good logistic skills.
The child and youth development project will improve your communication, planning, patience, and be a great talking point for future interviews.
The Youth Development Project runs year-round and you can stay for a minimum of one week, but we recommend staying longer to have an even greater impact.
What will I gain from the Youth Development Project abroad?
Helping with the youth and community development project abroad gives you a great experience in social work and provides insights for a career in teaching as well. You'll be addressing real needs in the community and contribute towards its growth. The project will also teach you the importance of nurture and motivation at a young age.
Here are just some of the benefits that our previous interns talk about:
Soft skills like teamwork, leadership, resilience, organizing, planning, and time management
Experience in social issues, rehabilitation and care
The ability to work and empathize with people of different cultures and backgrounds, helping to develop a 'global mindset'
Confidence from pushing past your comfort zone
Why does child and youth development matter?
Youth Development is more than just helping them decide what career they want to follow when they are older. It's about giving the children you work with a better opportunity to grow and learn outside of their education.
Youth community development projects teaches kids basic life skills such as teamwork, discipline, time management, confidence, and leadership which will help them do well later in life.
How are our Youth Development Projects abroad different?
At Projects Abroad, our first aim is to benefit the communities we work in. You can be assured that your internship is ethical and well supported. Here are just a few elements of our work that set it apart from other volunteer programmes.
Be fully supported by staff
On a youth community development project overseas, you'll work alongside members of the local area and Projects Abroad staff. They will help you plan your work and be on hand to advise you as and when you need help.
Recording our work in a secure database
We have created a Global Impact Database so we can track the positive impact our projects have. This is a secure and anonymous database that we use to identify specific areas of need. We can also monitor individual children in our projects to track their development.
Projects that have an impact
All our projects are well researched, targeted and sustainable. We aim to make a difference to the local community for the long term through our Management Plans. You'll be able to see the difference your time can have on individuals and a community.
Our Child Protection Policy
We take the safety of the children and young people we work with very seriously. That's why we've put together a comprehensive Child Protection Policy.
Not quite what you're looking for?
Take a look at the following pages where you'll find collections of similar projects: