At Projects Abroad, our commitment to sustainability is at the core of our mission.
So, when you choose Projects Abroad, you're not just embarking on an adventure; you're pioneering a brighter, more sustainable future for travel.
Here's how.
1) Our Model: High-Impact Projects, Low-Impact Travel
At Projects Abroad, responsible travel is at the heart of everything we do. We believe that travel should benefit everyone involved, from local communities to the global environment.
How We Make a Difference:
Low-impact: We operate on a low-impact model. This means our Projects benefit local communities, are environmentally conscious, and respect local wildlife, people, and cultures. We make every effort to reduce carbon emissions, source locally, and support sustainably-minded businesses. For unavoidable emissions, we're funding Ecologi's carbon avoidance initiatives to balance our carbon emissions.
Locally run: Our Projects put resources directly in the hands of underserved communities. We harness local knowledge to ensure our Projects have the most significant impact within their cultural context. We work hand-in-hand with local stakeholders to develop lasting solutions to global challenges.
Long-term: Our Projects are strategically crafted for lasting, holistic change. Sustainable development thrives on cross-sector collaboration, and you can choose from various fields, including Medicine & Healthcare, Conservation & Environment, and Community Development — whether you're interested in Childcare, Microfinance, Building, or other areas, you can make a meaningful and lasting impact.
Your experience with us becomes a catalyst for creating economic opportunities that lead to positive environmental and social outcomes at the most local level.
2) Climate-Positive: Taking Action on Carbon Emissions
As a founding member of the Glasgow Declaration on Climate Action in Tourism, we take environmental responsibility seriously. We meticulously monitor and measure the carbon footprint of our Projects and operations, striving to reduce emissions wherever possible, now and in the future.
Our Commitment:
Carbon Offset: Through our partnership with Ecologi, we offset 100% of the CO2e we produce. Our funding expands protected areas, supports sustainable livelihoods, restores degraded landscapes, and promotes carbon avoidance.
Climate Positive: We don't just offset our carbon emissions; we go further and capture more emissions than we generate. In addition to achieving carbon neutrality through Ecologi, we plant a tree for every one of our participants through Ecologi and our longstanding carbon management programme. As an integral part of our Conservation projects, this initiative has planted over 130,000 trees since 2015, with 80,000 mangroves among them.
We have offset emissions for January to June 2023, which totalled 392.19 CO2e. This covers all emissions associated with the delivery of our services, excluding flights.
Learn more about how we calculate and balance our emissions in our Climate Action Plan.
Balancing Your Emissions
With our Flight Carbon Calculator, you can calculate and balance your flight emissions. Partnering with CLevel, we support community-owned reforestation that absorbs or stores an equivalent amount of CO2, offsetting your flight's impact.
Explore our Flight Carbon Calculator.
3) Increasing Biodiversity: Nurturing Nature's Diversity
Diversity is the bedrock of environmental resilience. Our commitment to promoting balanced ecosystems ensures adaptability to future environmental challenges.
Our Approach:
Vigilant Monitoring: We keep a watchful eye on endangered species.
Ecological Restoration: We actively engage in restoring native flora and fauna.
Nature-Based Solutions: We advocate for nature-based solutions to climate change adaptation.
Get involved by joining one of our Conservation Projects.
Always Striving for More: Our Ongoing Journey
While we strive for perfection, we acknowledge we're not there yet. Our unwavering commitment to improvement means we'll always be transparent about our progress and continue to reduce our environmental footprint.
Join us today in making responsible choices that lead to a brighter, more sustainable future for travel. Together, we can create positive change that resonates around the world.
Our Sustainability Partners:
Choose a Conservation Project
1-3 of 23 Projects
Featured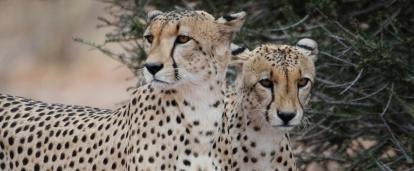 Africa's Big 5 and Wilderness Conservation in Botswana
See this project
Price:

9,595 AED for 1 week

Extra Weeks:

1,615 AED

Start Date:

July and August

Minimum Duration:

1 week

Age:

16 or over
Featured
Giraffe & Lion Conservation in Kenya
See this project
Price:

8,870 AED for 1 week

Extra Weeks:

1,465 AED

Start Date:

Anytime

Minimum Duration:

1 week

Age:

16 or over
Shark Conservation Volunteering in Fiji
See this project
Price:

12,835 AED for 2 weeks

Extra Weeks:

1,915 AED

Start Date:

Anytime

Minimum Duration:

2 weeks

Age:

16 or over
Load More