Do a medical internship in Argentina for teenagers, and travel with a group your age while you learn directly from doctors and study Spanish. This is a great way for you to add valuable medical work experience to your CV, which can help you stand out in applications and interviews.
You'll shadow doctors and nurses at a local hospital, which will give you a deeper insight into a developing country's healthcare practices. We'll also teach you Spanish, to help you communicate with medical staff and local people. You'll find this especially useful during medical outreaches. This is where you'll support local communities by raising awareness of disease and the importance of regular hygiene.
You'll live and work in Cordoba, and stay with a local host family. When you're not working, we've organised plenty of fun social and cultural activities for you to enjoy, including an exciting weekend trip. All activities will take place in groups, and will be supervised by Projects Abroad staff at all times.
When you apply you only pay 1195 AED, which comes off the total price.
Looking to do more than one project? Call us on +971 (0) 5025 48846 to see if we can offer a discount.
Project Overview
High School Specials - Hassle-free, pre-planned trips for 15-18 year olds that help you step out of your comfort zone
Argentina > Medicine & Spanish
Fixed dates during school holidays
This project is only for 15-18 year olds
What's included in the price?
Accommodation

Food (three meals a day)

Travel and medical insurance

Airport pick-up and drop-off

Transport to and from your work placement

Full induction and orientation by an experienced staff member on arrival

In-country support and 24-hour back-up from our team of full-time local staff

Emergency assistance from our international emergency response team

Project equipment and materials, including access to our database with thousands of resources

Training and workshops from our experienced local staff

Regular social events and community activities with other volunteers and interns

Access to our local office with internet connection

Access to our alumni services and discounts

Certification of project completion

Visa support and advice

Fundraising support, including your own personalised fundraising website

Pre-departure preparation by your own specialist Volunteer Advisor

Personalised MyProjectsAbroad website, with all the information you need about your project, accommodation and destination

A cultural awareness course

Membership to our volunteer social media groups, to share information and to get in touch

Organised weekend tourism trips

Dedicated full-time staff members with you 24 hours a day
What's not included?
Flights

Visa costs (where applicable)
Is a Medicine internship in Argentina for teenagers right for me?
This group internship is a great fit for you if you're eager to learn more about medicine and travel to South America. You'll gain practical medical experience for your CV, and you can use it as a chance to see if medicine is the right career for you. We'll also teach you Spanish, which is a useful skill to have. Medical work experience in Argentina for teenagers will help you stand out, and give you interesting points to talk about in applications and interviews.
You don't need any previous experience to join. You'll work under supervision at outreaches, and we'll teach you everything you need to know. You can also reach out for guidance from our friendly staff every step of the way. All you need is an eagerness to learn!
This High School Special runs on fixed dates over the summer, usually for two weeks at a time. If you'd like to stay longer, the project is also available for four weeks. There will be a set itinerary, which will include social activities and day trips. Projects Abroad staff will be available to support you, and to attend to any questions and concerns you may have along the way.
What will I do on a Medical placement in Argentina for high school students?
Your days will be jam-packed with observation work at local hospitals, working at outreaches, and Spanish classes. These are some of the things you'll do on this programme:
Shadow doctors and nurses in medical facilities and clinics
Take part in medical outreaches to provide healthcare in local communities
Attend medical workshops to learn more about healthcare in Argentina
Learn Spanish with a qualified teacher everyday
Your project activities will focus on the following:
Shadow doctors and nurses in medical facilities and clinics
You will spend the majority of your time on this placement observing local doctors and nurses at work in various healthcare facilities. You will also have the chance to watch surgeries being performed. This is your chance to ask lots of questions, so be sure to have your notepad and pen at the ready!
Take part in medical outreach projects to provide healthcare to those in need
Many communities in Argentina have little to no access to basic healthcare services. In order to bring free healthcare to these communities, we run regular outreaches. This is an opportunity for you to gain a better understanding of the health challenges disadvantaged communities face. These are some of the things you'll do:
Raise awareness about the importance of good hygiene practices in order to prevent disease
Helping to perform basic health checks, like checking blood pressure and blood sugar levels
Share knowledge about good nutrition to help prevent non-communicable diseases such as diabetes and obesity
Before you participate in one of these outreaches, we'll teach you everything you need to know.
Attend medical workshops to learn more about healthcare in Argentina
You will have the opportunity to attend workshops to build your knowledge of healthcare in Argentina. Workshops will focus on topics like:
Common diseases in Argentina
First aid
Traditional medicine
Nutritional cooking
Prevention of non-communicable diseases such as diabetes and obesity
Learn Spanish with a qualified teacher
During your time in Argentina, you'll have Spanish classes for two hours every day. These classes are taught by a qualified language teacher, and will be tailored for your exact level. We'll also teach you some medical Spanish, which you can use while shadowing doctors and nurses. Classes take place at the Projects Abroad office in the Villa Centenario neighbourhood, close to downtown Cordoba.
Where in Argentina will I be working?
Cordoba
Cordoba is a fascinating city, offering travellers a rich cultural history. Think cathedrals and churches, the oldest university in South America, and amazing galleries, theatres, and parks.
You'll work in hospitals and clinics, which you will travel to each day via local public transport. You'll always be with your group, and your Projects Abroad supervisor. You'll also have the chance to shadow doctors in different hospital departments.
When you're not working, you'll do things like see traditional villages in the hills, and visit the house which once belonged to Che Guevara.
What are the aims and impact of this project?
The main aim of this project is to give you the opportunity to experience the world of medicine in a developing country.
By observing medical professionals at work, you'll be able to build your practical medical knowledge. It may also help you decide if a career in medicine is a good fit for you. You'll also improve your Spanish, which is a useful skill to have on your CV.
You'll also gain practical medical experience working on outreaches. In Argentina, a succession of economic crises have left a once-strong middle class poverty-stricken. Access to healthcare services can be limited, especially in disadvantaged or rural areas. You'll help as we go into these communities to provide them with the healthcare they need.
You'll also help raise awareness of non-communicable diseases, like diabetes or high blood pressure, which are on the rise in Argentina.
Join us on a medical internship in Argentina for teenagers and gain medical experience while making a difference throughout our ongoing efforts.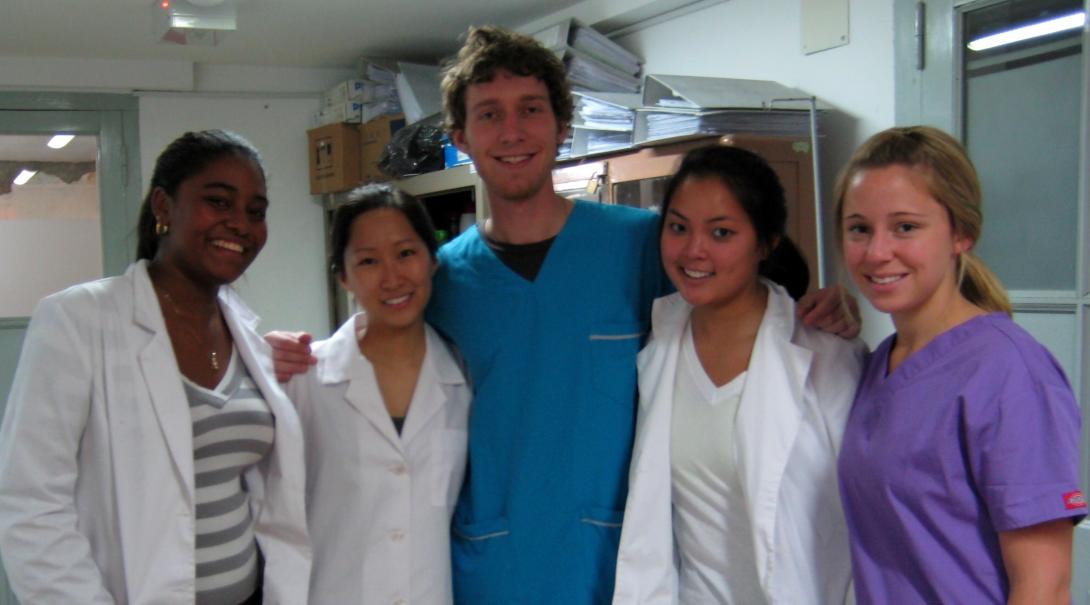 I can most definitely say that I have acquired medical knowledge I would have never thought of experiencing at the age of eighteen
Medicine Internships in Argentina for Teenagers
I have always had a desire to travel the world as well as pursue a career in Medicine. For the past 11 years, I have also studied the Spanish language and wanted to further enhance my knowledge of the language. I learnt about the Medicine & Spanish programme and knew it would be the perfect fit for me.
Medicine Internships in Argentina for Teenagers
Management Plans
We set out the aims and objectives of our projects in documents called Management Plans. We use them to properly plan the work you'll do. They also help us measure and evaluate our achievements and impact each year.
Ultimately, our Management Plans help us make our projects better. This in turn means you get to be part of something that makes a real impact where it's needed. Read more about our Management Plans.
Measuring Our Impact
Every year, thousands of High School Special volunteers and interns actively make a difference around the world. During their time abroad, they contribute towards achieving long-term goals and make a long-lasting positive impact on the communities where they work.
We produce an annual High School Specials Impact Report, which documents some of these achievements. Find out more about the impact of these projects, and read the latest report.
Not quite what you're looking for?
Take a look at the following pages where you'll find collections of similar projects: