Millennials and Gen-Z aren't the only ones challenging themselves to explore the world and do something different in 2024.
A rapidly growing number of people aged over 50 are opting to give back through their travels. Age is no barrier to volunteering abroad! Use your time to help others, take your career in a different direction, or just try something new!
Before you hop on a plane, you should choose a programme that plays to your strengths and takes you where you want to go.
Start by looking at some of our favourite volunteer abroad programmes for older adults. Then, make the most of your next holiday, career break, or retirement.
1) Protect wildlife in the Amazon Rainforest
Leave the city behind in favour of living in the heart of the Amazon Rainforest in Peru. Wake up to the sounds of the jungle and work alongside wildlife experts on our Rainforest Conservation Project.
Our older volunteers love the natural, secluded surroundings, and enjoy working to help indigenous plants and endangered wildlife thrive.
2) Help entrepreneurs build businesses in Tanzania
Building a business is no easy task. The women we work with in Tanzania need support before they can get their businesses off the ground.
Previous experience makes a huge difference on this project, so we always welcome older volunteers. Even if you don't have finance experience, you can assist us on the Micro-finance Project. This includes activities like teaching basic math or good customer service.
This volunteer work abroad is ideal for over 50s as running a successful business requires experience. Share what you've learned during your career and lifetime.
3) Live and work with a Nomad family in Mongolia
Seize the opportunity to break away from the world you know. Exchange it for wide-open plains, endless blue skies, and a completely different way of life.
Live with a nomadic family in a ger on our Nomad Project in Mongolia. You'll become part of their everyday life. Help herd cattle on horseback, milk animals, make cheese and butter, and teach English to your host family.
4) Raise awareness of diseases in the Philippines
Illnesses like diabetes and heart disease are on the rise. As populations age, it becomes more important for people to know how to prevent ill health and take care of themselves.
Why not use your skills on our Public Health Project? You'll work to raise awareness of these diseases and provide basic medical services in rural areas.
This work is a great fit for volunteers in their 50s and older. Some local communities are more open to listening and following advice given by older people. Don't worry if you have no previous medical knowledge or experience. Our local healthcare professionals teach you everything you need to know to participate.
We can help you choose the volunteer programme that is the best fit for you and your level of experience. We'll work with you to make sure the project uses your skills and experience as effectively as possible.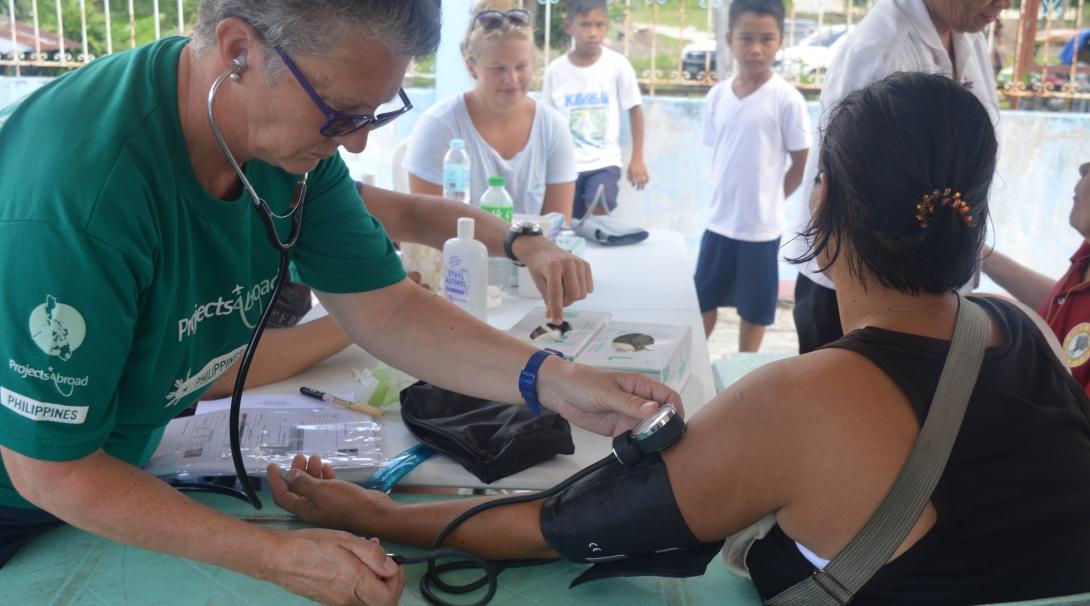 What do I need to know about travelling as an older volunteer?
There are several things to consider when volunteering abroad later in life. Your health and safety are extremely important.
We ensure you have the following when you travel with us:
24/7 support from our fully-trained local staff
Airport pickup and drop-off
All accommodation and meals provided
Access to medical care if you are ill or injured
All you need to do is relax, dive into your volunteer work, and enjoy your travels! We're here to address all your concerns about volunteering over the age of 50.
***
A little nervous about venturing out on your own or travelling abroad for the first time? Then we recommend joining our Grown-up Specials for travellers over 50. These special projects run over fixed periods and offer more guidance than our standard programmes. Only participants over 50 can take part, so you'll be living and working alongside people your own age.
Want to join a Grown-up Special?
Contact us to get started!