At a glance
Shadow doctors and nurses in hospitals or clinics and learn how to diagnose and treat the conditions you'll see.
Wearing your scrubs, you'll follow them on their rounds and rotate through departments like cardiology or neurology.
You'll also get practical work experience doing health checks during monthly outreaches in disadvantaged areas.
Is a medical internship in Mongolia right for me?
This internship is perfect for people who are applying to study medicine, or medical students trying to decide on a specialisation to pursue. It's also a great option for those wanting to see the day-to-day functions of a hospital in a developing world. You should be hungry to learn, and willing to ask questions.
During your internship, you'll be able to broaden your practical medical knowledge and strengthen skills like communication. You'll also learn a great deal about the healthcare challenges that people face in Mongolia.
Our medical internship in Mongolia runs throughout the year and you can join at any time from two weeks.
What will I do on this project?
Based in a hospital or clinic, you will have a lot to do for the duration of your medical internship in Mongolia. Here are some of the tasks you can expect to get involved with:
Shadow doctors and observe daily routines
Rotate through a variety of departments
Help staff during community outreach activities
Your work will be split into three areas:
Shadow Mongolian doctors and observe daily routines
Take notes, ask questions, and get to know the dedicated professionals who work to help, improve and save lives. Through active observations, you will build relationships with your supervising doctor, and tap into a wealth of medical knowledge! You also have an opportunity to observe surgeries.
Rotate through a variety of departments
To really know what medical specialisation you're interested in, you need to explore your options. You will rotate through medical departments like cardiology, neurology, the intensive care unit, or general surgery. This is a wonderful way to fully explore the medical facilities and practises of a developing country.
Help staff during community outreach activities
Every month, we organise a community outreach. These outreaches are held at a community centre and focus on providing healthcare to homeless people. Here, you'll help distribute meals to people in attendance, assist the doctor on duty, and distribute medication to people. You'll get some practical experience by helping to record blood pressure readings or check the weight/height of patients.
The doctor on duty will supervise you, and answer any questions you have.
What type of medical placements are available in Mongolia?
You will be able to work in a number of different departments, such as:
Surgical wards
A neurosurgery ward
A cardiology department
ICU
Emergency
E.N.T
Endoscopy
A scientific research centre
If you're interested in a specific department, please feel free to contact us and we can help advise you.
Where in Mongolia will I be working?
Ulaanbaatar
You will live in the country's largest metropolis, Ulaanbaatar, and work in a hospital or clinic. All medical interns also take part in monthly outreaches held at a community centre.
Mongolia is a large country and shares borders with Russia and China. Most of the country is a vast open plain traversed by nomads.
In your free time, wander city streets, take note of the Soviet-style high-rise blocks, or speak to families who live in gers – traditional tents. Or, get away from the city, and travel for about two hours to visit nomads on the Mongolian Steppe.
A typical day on the Medicine Project in Mongolia
A typical day on the medical internship in Mongolia begins in your host family home with breakfast and morning chatter. With your scrubs and medical clogs packed, you will take public transport to your medical placement.
You will shadow doctors in clinics or hospitals, following them on their rounds and observing procedures. You work for around 8 hours a day, Monday to Friday. You also have the option of night-shift work. This can be discussed with your supervisor.
Once a month, you will gain hands-on medicine work experience in Mongolia at an outreach. You will take blood pressure readings, learn about different conditions, and ask the on-duty doctor questions about different patients.
After a busy week of interning, use your free time in the evenings and over weekends to explore Mongolia. Visit the nomads, plan a trip to Terelj National Park, and make sure to stop over in the Gobi Desert.
What are the aims and impact of this project?
The main aim of this internship in Mongolia is to help you understand the medical practices of a developing country. We also hope to encourage an exchange of medical knowledge between you and the team you work with.
We organise monthly outreaches for you to take part in. Here, you will provide disadvantaged people with healthcare services. These services include blood pressure checks and distributing free medication.
To ensure that we stay true to our long-term vision for healthcare in Mongolia, we have committed to four goals in our Medical Management Plan:
Encourage an understanding of medical practices and promote an exchange of medical knowledge
Promote Awareness of Non-Communicable Diseases
Improve Access to Basic Healthcare for Disadvantaged Groups
Improve Hygiene Standards
Dr Erdenechimeg, from a Mongolian medical internship placement says: "The Medicine & Healthcare [interns] are able to pose any questions about areas that they would like to explore further, and I'm always delighted to spend the necessary time providing the relevant information to expand their practical and theoretical knowledge.
I still maintain good contacts with many former volunteers, who repeatedly stress their desire to become qualified and proficient doctors, partly based on their experience here in Mongolia. I hope that this continues and that any future volunteers feel that they can gain some experience whilst working in our hospitals together with our qualified doctors, in a way that will be beneficial to them regardless of their area of expertise."
Join us on a medical internship in Mongolia to kickstart your career in medicine today.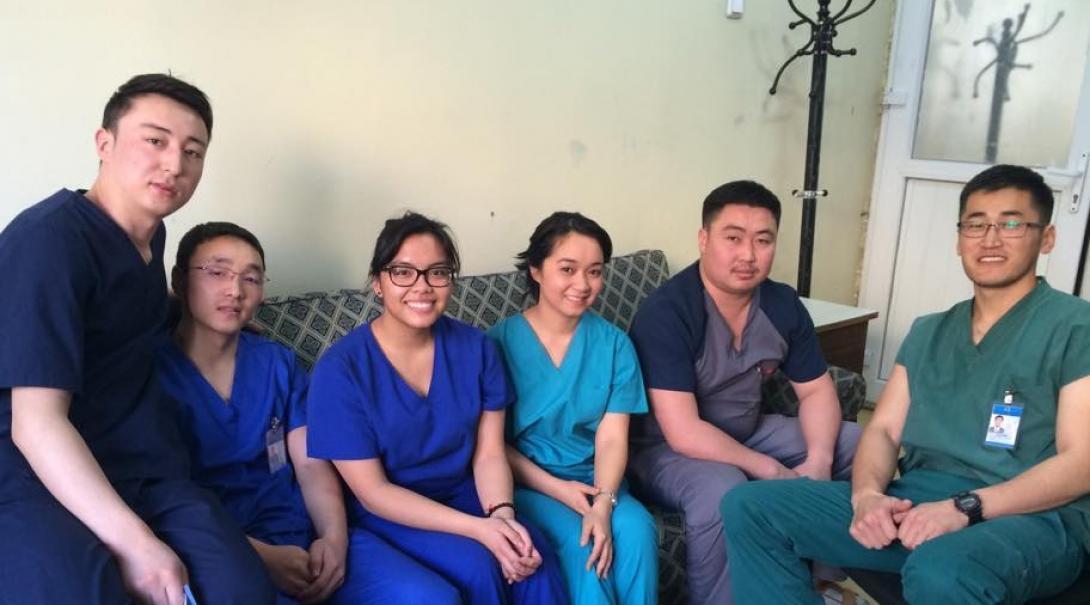 Medical electives for students
This project is also perfect for university medical and healthcare elective students. The real-world insight and knowledge you gain will help shape you as a future medical professional. You will also learn to work with different people and get a broader perspective of global healthcare systems and issues. This benefits your career for years to come. We can organise a placement that meets all of your university's requirements.
Management plans
We set out the aims and objectives of our projects in documents called Management Plans. We use them to properly plan the work you'll do. They also help us measure and evaluate our achievements and impact each year.
Ultimately, our Management Plans help us make our projects better. This in turn means you get to be part of something that makes a real impact where it's needed. Read more about our Management Plans.
Measuring our impact
Our projects work towards clear long-term goals, with specific annual objectives. Every volunteer and intern we send to these projects helps us work towards these goals, no matter how long they spend on our projects.
Every year we take a step back and look at how much progress we've made towards these goals. We put together a Global Impact Report, which documents our achievements. Find out more about the impact our global community of volunteers, interns and staff make, and read the latest report.
Food and accommodation
You'll stay with a host family in Ulaanbaatar. They will welcome you into their home, eager to share their customs and have you teach them about your own culture. We believe that this is the best way to immerse yourself in the culture of Mongolia and have a truly unique experience.
We will always try to let you live alongside at least one other Projects Abroad volunteer or intern at the same host family. Your room will be modest, but comfortable, clean, and safe.
Your programme fee includes three meals a day.
Find out more about our accommodation.
Leisure activities and free time
Mongolia is one of the most remote countries in the world. Volunteering here is a chance to experience a completely different way of life.
Our projects are based in Ulaanbaatar, the country's capital. This city is an eclectic mix of modern and traditional. The Government Palace is a perfect example of this, with it's old-world style architecture and glowing blue and gold lights.
Even when you're in the city, you're never far from the countryside. Just a quick trip can take you out to a nomad settlement, where you can meet travelling families who live in traditional gers. We recommend going on a horse ride or trek to take in the beauty of the endless countryside horizons.
The famous statue of Genghis Khan is a must-see. You can also learn about the country's history at the National Museum of Mongolia.
We run a range of different projects in Mongolia so there will likely be other volunteers in the country with you. So you can travel alone or explore the country with a group of like-minded new friends.
Safety and staff support
Your safety and security is our prime concern. We have many procedures and systems to ensure you have the support you need to enjoy your trip with peace of mind. Our Projects Abroad staff are available 24 hours a day to help, and will be on-hand to make sure you settle in well at your accommodation and placement. If you encounter any problems, they will be available to help at any time.
Find out more about safety and backup.
Meet the team in Mongolia
Not quite what you're looking for?
Take a look at the following pages where you'll find collections of similar projects: