At a glance
Join our Spanish Language Course in Mexico, and learn through classes with a professional language teacher. Outside of class you can practice new words and phrases with local native speakers.
Study Spanish full-time, or combine your studies with one of our volunteer or internship programmes.
You'll be based in one of three locations, ranging from a large city to a smaller, more rural town. No matter where you are, you can make the most of life in beautiful Mexico!
Is learning Spanish in Mexico right for me?
If you're eager to travel and learn Spanish at the same time, this immersive learning experience is ideal for you. You'll get to practice your language skills while exploring the city and interacting with your host family.
Whether you're looking to improve your Spanish or you're a complete beginner, this project will suit your needs perfectly. Your lessons will be tailored to your skill level, so you don't need to worry about having to keep up with a class.
It's also a useful way to improve your Spanish if you want to join a project with a language requirement. You can study full-time before starting your project, or choose a language add-on, so you can learn while working.
This is a flexible project that is available all year round, from a minimum of one week. We recommend staying longer to hone your Spanish skills as much as possible.
What will I be doing?
You will attend one-on-one Spanish classes with a qualified teacher. The time and frequency of these lessons will depend on whether you're studying full-time or part-time. Here are some of the activities that you can expect to do during your stay:
Learn Spanish during personal lessons
Explore and experience Mexico
Help with other work if you choose to combine your lessons with a volunteer project
Learn Spanish
Your Spanish classes will be personalised according to your knowledge and skill level. If you're a beginner, you'll be taught basic grammar and vocabulary. If you're on an intermediate level, you'll have more control over what you and your teacher focus on.
If you choose to do this as a standalone course, you will attend 15 hours of classes per week. If you choose to combine this course with one of our other projects, you'll be able to choose between a 5, 14, or 30 hour course.
Explore Mexico
The best thing about learning Spanish in Mexico is that you're able to practice what you learn in your lessons while you're out and about. Improve your conversation and pronunciation by ordering lunch at a restaurant or shopping!
Participate in a volunteer project
We offer many different projects that are based in Mexico. Support early childhood development at understaffed childcare centres or gain practical work experience working with NGOs in the field of international development. Take a look at the projects we offer to see if you'd like to combine any of them with your language course.
Alternatively, you can also do a standalone course in Spanish before moving on to contribute to one of our other projects. This is particularly useful if the project you want to participate in requires you to speak Spanish. For example, your teacher can teach you medical terms that you can use if you decide to do a Medicine internship.
You will be located in Guadalajara, Ciudad Guzman, or Cuyutlan.
Guadalajara
Guadalajara is the second largest city in Mexico. Here, you'll attend classes at our Projects Abroad office.
Cosmopolitan and lively, this historic city has all the comforts of large European and North American cities. It's home to plenty of cultural festivities and attractions, gorgeous architecture, and dozens of historic sites. Enjoy an authentic Mexican meal at a restaurant or fill your free time with touristic activities.
Ciudad Guzman
A small town located about 90 minutes out of Guadalajara, Ciudad Guzman is rich in tradition, history, and culture. Surrounded by gorgeous hills and mountains, and home to beautiful buildings, this small town is a good fit if you want a more rural, traditional experience. Your classes are held at a local school.
Cuyutlan
A small coastal town, Cuyutlan is the closest town to our Sea Turtle and Coastal Conservation Project. Your lessons will be held at your accommodation, or at a nearby hotel. When you aren't studying, you can sunbathe on dark sand beaches and revel in the relaxed atmosphere.
A typical day learning Spanish in Mexico
Most days will begin with breakfast at your host home. This is a great opportunity for you to practice your Spanish and get to know your host family at the same time. All classes run from Monday to Friday. You will have evenings and weekends to explore with other Projects Abroad volunteers and interns.
The structure of your day will depend on whether you choose to do a standalone Spanish Language Course, or combine your studies with a project through our add-on options.
If you study full-time, you'll have around 15 hours of classes per week. You can choose to have your classes in the mornings or afternoons. If you're combining your language studies with a project, most of your day will be committed to project work.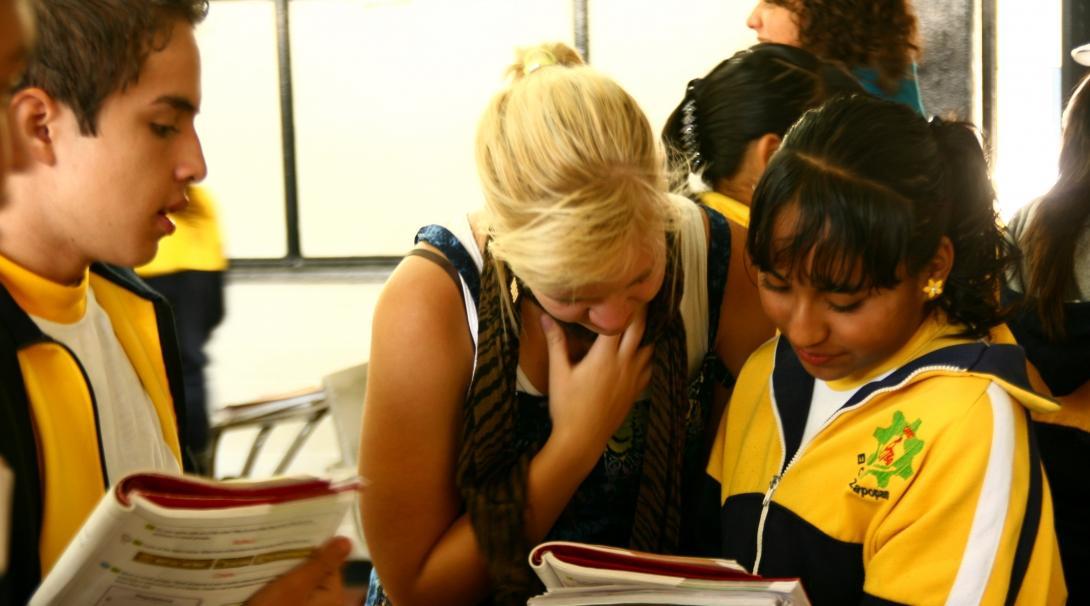 What are the aims and impact of this course?
This project aims to help you improve your Spanish language skills through personalised lessons and immersive learning.
It is also a brilliant opportunity for cultural exchange. Through immersing yourself in the Spanish language and interacting with your host family as well as locals, you will learn about the culture and way of life. You will leave with an understanding of traditions and practices different to those of your home country.
If you choose to combine your language course with one of our other projects, you will also become part of our ongoing efforts to support local communities. For example, if you work on a Childcare Project, you will help children with early childhood development, and teach English.
This project will leave you with an increased knowledge of Spanish and a marked improvement in both your grammar and conversational skills.
Study Spanish in Mexico and improve your language skills in a Spanish-speaking country.
Measuring our impact
Our projects work towards clear long-term goals, with specific annual objectives. Every volunteer and intern we send to these projects helps us work towards these goals, no matter how long they spend on our projects.
Every year we take a step back and look at how much progress we've made towards these goals. We put together a Global Impact Report, which documents our achievements. Find out more about the impact our global community of volunteers, interns and staff make, and read the latest report.
Food and accommodation
You'll stay with a host family in Guadalajara. They'll welcome you into their home, eager to share their customs and learn about yours. This is the best way to immerse yourself in the culture of Mexico and have a unique experience.
We'll try to ensure you live with other Projects Abroad volunteers or interns at the same host family. Your room will be modest, but comfortable, clean, and safe.
Your programme fee includes three meals a day. This is great news because nothing beats authentic Mexican food. Get ready to sample the most delicious tacos, enchiladas, and quesadillas.
Find out more about our accommodation.
Leisure activities and free time
With beautiful beaches, arresting art galleries, and buzzing restaurants, there's something for everyone in Mexico. You'll have plenty to do during your free time on your project in this dynamic country.
There's something captivating about touring through old buildings. If you're into neo-gothic architecture, treat yourself to a trip to the Templo Expiatorio del Santisimo Sacramento. It's a work of art with its ornate steeples and glowing stained glass windows.
There are also plenty of museums, giving you the chance to immerse yourself in the country's rich history. For something different, you can spend the day appreciating the wildlife and lush vegetation of Las Peñas Ecological Park.
You can't take a trip to Mexico without tasting authentic Mexican cuisine. You can spend an evening enjoying pozole or tamales at a local restaurant and watching the vivid orange-red sun melt into the horizon.
We have a host of different projects in Mexico so there'll likely be lots of other volunteers in the area during your trip. So you can choose to travel and explore in a group or on your own.
Safety and staff support
Your safety and security is our prime concern. We have many procedures and systems to ensure you have the support you need to enjoy your trip with peace of mind. Our Projects Abroad staff are available 24 hours a day to help, and will be on-hand to make sure you settle in well at your accommodation and placement. If you encounter any problems, they will be available to help at any time.
Find out more about safety and backup.
Not quite what you're looking for?
Take a look at the following pages where you'll find collections of similar projects: