Immerse yourself in the Khmer culture with other volunteers over 50 in Cambodia. You'll learn about Khmer traditions and Cambodia's history, and get to know its people. This is a golden opportunity to get a deeper insight into Cambodian culture while travelling and exploring with a group your own age.
Every day will be an adventure. Our staff will take you on a journey, and you'll learn about a way of life different to your own. You'll visit places with historical significance and get hands-on with traditional arts and crafts. You'll take part in cooking classes, learn basic Khmer, and discover the history of the Angkor Wat temples. We also organise activities where you can support local people, like teaching English or working on a farm.
You'll be based in the bustling capital city of Phnom Penh. However, your itinerary will take you further, to cities like Siem Reap, Battambang, and Kampot. You'll spend most nights in our shared volunteer apartments. When you're travelling, you'll stay at various hotels and guesthouses. Throughout it all, our staff will be there to help and guide you.
When you apply you only pay 1195 AED, which comes off the total price.
Looking to do more than one project? Call us on +971 (0) 5025 48846 to see if we can offer a discount.
Project Overview
Grown-up Specials - Tailor-made trips for volunteers over 50 who want to make a difference
Fixed dates throughout the year
Anyone aged 50 or over can join
What's included in the price?
Accommodation

Food (three meals a day)

Travel and medical insurance

Airport pick-up and drop-off

Full induction and orientation by an experienced staff member on arrival

Transport to and from your work placement

In-country support and 24-hour back-up from our team of full-time local staff

Emergency assistance from our international emergency response team

Project equipment and materials, including access to our database with thousands of resources

Training and workshops from our experienced local staff

Regular social events and community activities with other volunteers and interns

Access to our local office with internet connection

Access to our alumni services and discounts

Certification of project completion

Visa support and advice

Fundraising support, including your own personalised fundraising website

Pre-departure preparation by your own specialist Volunteer Advisor

Personalised MyProjectsAbroad website, with all the information you need about your project, accommodation and destination

A cultural awareness course

Membership to our volunteer social media groups, to share information and to get in touch

Organised weekend tourism trips
What's not included?
Flights

Visa costs (where applicable)
Is a Khmer cultural experience in Cambodia right for me?
If understanding and exploring the depths of a new culture is something that appeals to you, then our cultural immersion project in Cambodia for older adults is for you. You'll have the opportunity to travel and do something different with a group of people your own age.
This project is perfect for people who are retired, or have taken time off work to travel and give back to a community abroad. You don't need previous experience to join, as you'll be focused on learning and experiences. This is a great way to pursue personal enrichment, and to travel safely with a group of likeminded people.
Our Grown-up Special in Cambodia is designed specifically for people over the age of 50. Our staff have put together a two-week itinerary filled with activities and trips. You'll explore temples, visit museums, and more. You'll do all of this with a group, and Projects Abroad staff will be with you to offer support.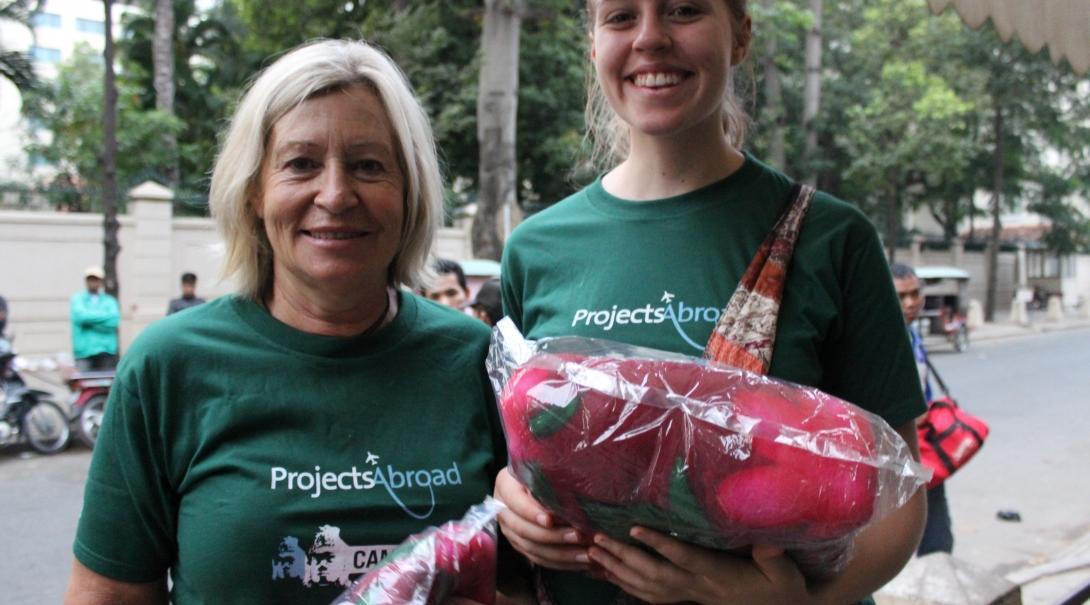 What will I do on the Khmer cultural immersion Grown-up Special in Cambodia?
Seize the opportunity to experience Cambodian culture first-hand, while also giving back to the community. Here are a few of the activities you'll be involved in:
Immerse yourself in the Khmer culture and experience life in Cambodia
Learn more about Cambodia and its harrowing history of the Khmer Rouge era
Assist locals with English teaching and basic farm work that will benefit the community
Your work will focus on the following main areas:
Immerse yourself in the Khmer culture and experience life in Cambodia
As part of your project, you'll get to experience the Khmer culture through different activities. You'll interact with Cambodians every step of the way and learn about their way of life. You'll learn the art of puppet making, gain skills in traditional Khmer cooking, and we'll teach you a few basic phrases in Khmer.
Learn more about Cambodia and its harrowing history of the Khmer Rouge era
Cambodia has gone through a significant change since the civil war between 1975 and 1979. This brutal regime claimed the lives of over two million people and resulted in one of the worst genocides in history.
As part of your two-week trip, we have organised trips to places and monuments of historical significance. You'll visit the genocide and national museums, the famous Angkor Wat temples, and more. This will give you a deeper insight into the challenges Cambodian people face everyday.
Assist locals with English teaching and basic farm work that will benefit the community
This project is primarily learning-based, but you'll also get involved in volunteer work that benefit the community. You'll teach basic English to children at a school, and lend a hand on a local farm. At the farm, you'll work in the fields, assisting with planting and picking crops that will help feed families.
Where in Cambodia will I be working?
Phnom Penh
Our Cultural Immersion Project in Cambodia for older adults is based in and around the bustling capital city of Phnom Penh.
The tourism industry in Cambodia is growing rapidly. Although Phnom Penh is undergoing more development because of influx of tourists, there is still a significant amount of poverty. Many communities remain severely disadvantaged, and access to services like healthcare and education can be limited.
During your project, there will be an assortment of activities. Each one will expose you to a different aspect of Khmer culture and Cambodian history. You'll also get to lend a hand at a school and a local farm.
Although you'll be based in Phnom Penh, you'll also get to visit other cities like Siem Reap, Kampong Chhnang, and Kampot. You'll see historical museums, pepper farms, the magnificent Angkor temples, and more.
What are the aims and impact of the Khmer cultural immersion project?
The aim of this project is to provide you with a culturally immersive experience in one of Asia's most fascinating countries. You'll get an insight into Khmer culture and the challenges Cambodian people face today, and we'll teach you about their history and traditions.
This experience goes beyond what you would get as a normal tourist. You'll engage in cultural exchange, and you'll do volunteer work that supports our ongoing efforts to help communities develop. This could be something like teaching English, and giving young students the opportunity to practice speaking with you. Speaking English is a skill that can open the door to better employment opportunities in a country where tourism is an growing industry.
Join us and take part in a unique Khmer cultural experience in Cambodia for seniors.
Management Plans
We set out the aims and objectives of our projects in documents called Management Plans. We use them to properly plan the work you'll do. They also help us measure and evaluate our achievements and impact each year.
Ultimately, our Management Plans help us make our projects better. This in turn means you get to be part of something that makes a real impact where it's needed. Read more about our Management Plans.
Meet the team in Cambodia
Not quite what you're looking for?
Take a look at the following pages where you'll find collections of similar projects: