At a glance
Shadow experienced dentists in clinics and health centres and learn from observing them. This is a great opportunity to get insight into how dentistry is practiced in a developing country.
In Mexico, many disadvantaged communities lack access to basic medical and dental services. You'll do dental outreaches in these communities, and give back while gaining practical experience.
You'll be based in the city of Guadalajara. With scenic surroundings and a bustling city centre, it's the perfect setting to experience life in Mexico.
18 or over
You need to speak basic Spanish.
Is a Dentistry internship in Mexico right for me?
Our Dentistry internship in Mexico is perfect for anyone interested in a career in dentistry. It will give you relevant experience to draw on when you apply to study. If you're already studying, you can seize the opportunity to build on your practical dental knowledge.
You can use this experience to add work experience to your CV, and it will give you a lot to talk about in interviews. Talk about what you saw and learned, and how you overcame any challenges you faced. You'll also have a deeper insight into the healthcare challenges people face in developing countries.
You don't need any previous experience to join. You'll have a supervisor to guide you, and you can reach out to Projects Abroad staff anytime you need to. You can find out whether dentistry is the right career for you by getting first-hand experience of what the day-to-day life of a dentist is like.
However, you do need to be at least 18 years old to join. You'll also need to speak basic Spanish.
This project runs throughout the year. You can join at any time of year for a minimum of two weeks. We encourage you to stay longer so you can see and learn more.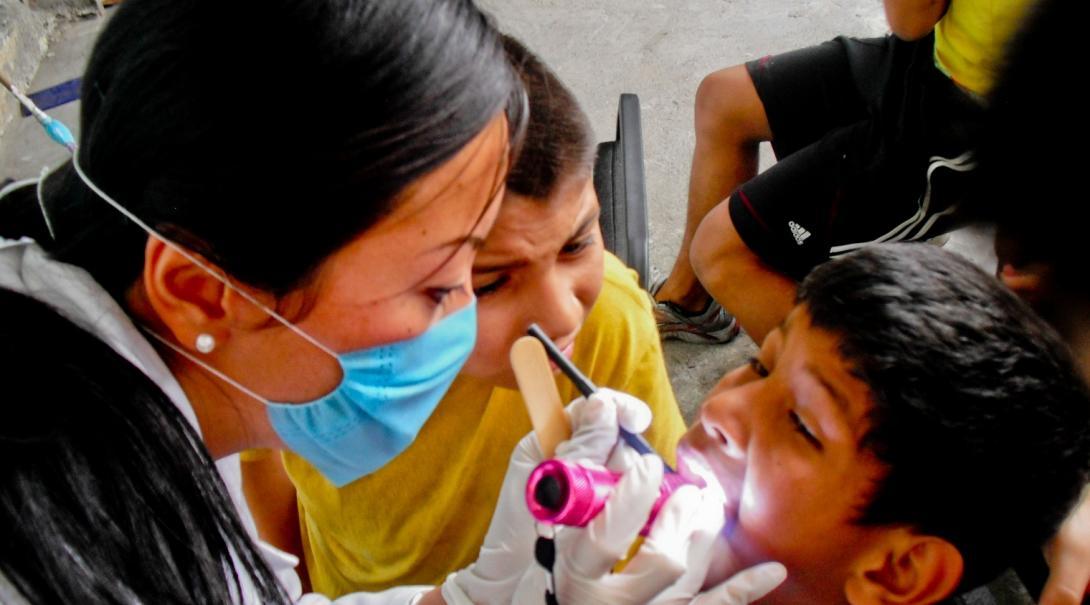 What will I do at my dentistry placement in Mexico?
You'll work in a dental clinic or healthcare centre. In both placements, there are plenty of ways you can learn and gain experience. These are some of your main tasks:
Shadow and observe local dentistry staff and experience their daily routine
Assist with minor tasks like patient screenings and preparing instruments for procedures
Conduct community outreaches and raise awareness of the importance of oral hygiene
Your work will focus on these areas:
Observe professional dentists
The majority of your internship will be spent shadowing dentists in a dental clinic or healthcare centre. You'll get to observe patients being screened, sit in on consultations, and observe procedures. These procedures include teeth extractions and tooth cavity cleaning.
You may also be able to observe more complex procedures, like endodontics procedures and maxillofacial surgeries. You will be permitted to enter the operating room to observe.
Assist dentistry staff
You'll also have the chance to assist with minor tasks. This will include helping prepare instruments and equipment, and giving patients information about oral hygiene.
Community outreaches
You can also raise awareness about the importance of oral hygiene during outreaches in schools and around the community. You'll give talks on how to brush teeth correctly and you can make oral hygiene posters to hang on classroom walls. This will give students a visual reminder about why they need to care for their teeth.
Where in Mexico will I work?
Guadalajara
This internship is located in Guadalajara, a traditional city filled with leafy boulevards and winding cobblestone streets. It has a busy city centre, with buzzing street life and a great culinary scene. But there are also more rural communities on the outskirts where a lot of our outreach work is focused.
You will gain dentistry work experience in Mexico, at a dental clinic or healthcare centre. The facilities in Mexico are well equipped, and it will be a good opportunity to see how dentists work in developing countries.
What is a typical day at a dentistry placement in Mexico like?
On a typical day, you'll wake up and enjoy a tasty breakfast with your host family. You'll use public transport to get to your placement. On your first day, our staff will show you the easiest way to get there.
Your work day will run from 8am until 1pm, Monday to Friday. You'll have your weekends free.
You will usually shadow the dentists in consultations and occasionally on easy procedures, depending on what is scheduled for the day.
Once a month (depending on the overall number of interns) you'll go out into a rural community to help at outreaches or raise awareness about dental care.
In the evenings, you can spend time exploring local markets or visiting the string of culinary establishments in the city centre. Or you could spend time with your host family to get to know them better, and fully immerse yourself in their way of life.
What are the aims and impact of this project?
The aim of this project is to give you the chance to learn more about dentistry first-hand. You'll learn directly from dentists, and they'll teach you how to diagnose and treat the conditions you see. We encourage you to ask questions and take notes to make the most of your internship.
In Mexico, many of the disadvantaged communities we work with have little or no access to basic healthcare or dental services. Either they can't afford to pay for treatment, or they have no means to travel to a clinic. You will be part of our efforts to overcome this by participating in outreach work.
Your main role during outreaches will be to help raise awareness about the importance of dental hygiene. By teaching local community members the ins and outs of dental care, you'll help with preventing tooth decay and gum disease.
To make sure we're always working towards a long-term vision, we've outlined several goals in our Medical Management Plan:
Improve access to basic healthcare for disadvantaged groups
Promote awareness of non-communicable diseases
Improve hygiene standards
Improve the quality of healthcare provided to patients
Encourage an understanding of medical practices and promote an exchange of medical knowledge
Join a Dentistry internship in Mexico and help us work towards these goals.
Medical electives for students
This project is also perfect for university medical and healthcare elective students. The real-world insight and knowledge you gain will help shape you as a future medical professional. You will also learn to work with different people and get a broader perspective of global healthcare systems and issues. This benefits your career for years to come. We can organise a placement that meets all of your university's requirements.
Management plans
We set out the aims and objectives of our projects in documents called Management Plans. We use them to properly plan the work you'll do. They also help us measure and evaluate our achievements and impact each year.
Ultimately, our Management Plans help us make our projects better. This in turn means you get to be part of something that makes a real impact where it's needed. Read more about our Management Plans.
Measuring our impact
Our projects work towards clear long-term goals, with specific annual objectives. Every volunteer and intern we send to these projects helps us work towards these goals, no matter how long they spend on our projects.
Every year we take a step back and look at how much progress we've made towards these goals. We put together a Global Impact Report, which documents our achievements. Find out more about the impact our global community of volunteers, interns and staff make, and read the latest report.
Food and accommodation
You'll stay with a host family in Guadalajara. They'll welcome you into their home, eager to share their customs and learn about yours. This is the best way to immerse yourself in the culture of Mexico and have a unique experience.
We'll try to ensure you live with other Projects Abroad volunteers or interns at the same host family. Your room will be modest, but comfortable, clean, and safe.
Your programme fee includes three meals a day. This is great news because nothing beats authentic Mexican food. Get ready to sample the most delicious tacos, enchiladas, and quesadillas.
Find out more about our accommodation.
Leisure activities and free time
With beautiful beaches, arresting art galleries, and buzzing restaurants, there's something for everyone in Mexico. You'll have plenty to do during your free time on your project in this dynamic country.
There's something captivating about touring through old buildings. If you're into neo-gothic architecture, treat yourself to a trip to the Templo Expiatorio del Santisimo Sacramento. It's a work of art with its ornate steeples and glowing stained glass windows.
There are also plenty of museums, giving you the chance to immerse yourself in the country's rich history. For something different, you can spend the day appreciating the wildlife and lush vegetation of Las Peñas Ecological Park.
You can't take a trip to Mexico without tasting authentic Mexican cuisine. You can spend an evening enjoying pozole or tamales at a local restaurant and watching the vivid orange-red sun melt into the horizon.
We have a host of different projects in Mexico so there'll likely be lots of other volunteers in the area during your trip. So you can choose to travel and explore in a group or on your own.
Safety and staff support
Your safety and security is our prime concern. We have many procedures and systems to ensure you have the support you need to enjoy your trip with peace of mind. Our Projects Abroad staff are available 24 hours a day to help, and will be on-hand to make sure you settle in well at your accommodation and placement. If you encounter any problems, they will be available to help at any time.
Find out more about safety and backup.
Not quite what you're looking for?
Take a look at the following pages where you'll find collections of similar projects: