Join our Law and Business internship in China for teenagers and learn directly from professionals at law firms and companies. You'll gain insight into the inner workings of businesses in China, while experiencing life in a different country and work culture. This is an exciting way to add work experience to your CV, which could help your future career.
During your internship, you'll get plenty of practical work. You'll do legal case studies, visit courts, and receive business assignments. This will help you see what the day-to-day work of a lawyer or business professional is like.
You will be based in Shanghai and stay at shared accommodation with teenagers your age. Projects Abroad staff will be there to supervise and guide you every step of the way.
When you apply you only pay 1195 AED, which comes off the total price.
Looking to do more than one project? Call us on +971 (0) 5025 48846 to see if we can offer a discount.
Project Overview
High School Specials - Hassle-free, pre-planned trips for 15-18 year olds that help you step out of your comfort zone
Fixed dates during school holidays
This project is only for 15-18 year olds
What's included in the price?
Accommodation

Food (three meals a day)

Travel and medical insurance

Airport pick-up and drop-off

Full induction and orientation by an experienced staff member on arrival

Transport to and from your work placement

In-country support and 24-hour back-up from our team of full-time local staff

Emergency assistance from our international emergency response team

Project equipment and materials, including access to our database with thousands of resources

Training and workshops from our experienced local staff

Regular social events and community activities with other volunteers and interns

Access to our local office with internet connection

Certification of project completion

Access to our alumni services and discounts

Visa support and advice

Pre-departure preparation by your own specialist Volunteer Advisor

Fundraising support, including your own personalised fundraising website

Personalised MyProjectsAbroad website, with all the information you need about your project, accommodation and destination

Dedicated full-time staff members with you 24 hours a day

Organised weekend tourism trips

Membership to our volunteer social media groups, to share information and to get in touch

A cultural awareness course
What's not included?
Flights

Visa costs (where applicable)
Is a Law and Business internship in China for teenagers right for me?
This internship is perfect for adventurous teenagers interested in adding professional legal and business work experience to their CVs. In the process, you'll also experience living and working in a rapidly developing country, and meet people your age from around the world.
If you're thinking about studying law or business, this internship is a wonderful opportunity to explore what they're like in practice. Having this kind of work experience on your CV will set your application apart and give you interesting things to talk about in interviews.
You don't need any qualifications or experience to join. We'll teach you everything you need to know, and you'll have all the support and guidance you require. All you need to bring with you is a positive attitude and a hunger to learn!
This High School Special runs for two weeks over fixed dates in the summer. We offer extra staff support, so you'll be safe and have plenty of guidance along the way. When you're not working, we've organised social and cultural activities for your group to keep you busy. You'll also go on a weekend trip together with our staff.
What will I do on a Law and Business internship in China for high school students?
You'll spend two weeks in Shanghai with teenagers your age, working at local law firms and businesses. These are some of the things you will do:
Meet and shadow lawyers and business professionals
Receive presentations and assignments
Explore Shanghai with interns from all over the world
On a Law and Business internship in China for high school students, your work will focus on the following areas:
Meet and shadow lawyers and business professionals
You'll learn from and shadow highly skilled lawyers and business professionals. They'll share personal accounts and tips, which can help you decide if this is a career you want to pursue. They'll also answer your questions, so we recommend taking notes so you can remember everything you learn from them!
Receive presentations and assignments
You will receive interesting and informative presentations from people in the industry. These are designed to give you a broad overview of and a deeper insight into legal and business practices in China. You'll focus on topics like commercial and corporate law.
You will also be given a variety of tasks to complete. These include:
Putting together case studies
Proofreading documents
Making comparisons between the Chinese and other legal systems
Explore Shanghai with interns from all over the world
Our staff have a fun sightseeing trips organised for you and the other teenagers. You'll visit the east Nanjing road shopping street, Yuyuan Garden and Chenghuang temple. You'll also spend time learning a few Chinese phrases, making dumplings and practicing your calligraphy. Projects Abroad staff will make sure you are never alone during this trip, and during the social and cultural activities we organise during the week.
Where in China will I be working?
Shanghai
You'll work in Shanghai, which is one of the biggest cities in China and the international hub for economic and financial development. When you see the skyscrapers that seem to have no end and the neon city skyline that illuminates the night sky, the vastness of Shanghai will really sink in. It can be exciting to see the constant bustle of activity as people move through the street at all hours. You'll see people on their way to work, bartering at the markets or enjoying a meal at one of the many Chinese side street cafes.
While you aren't taking in the wonder of Shanghai, you'll spend one week at a law firm, and one week in a business placement. We give you the chance to explore sectors like:
Consulting
Finance
Education
Technology
Marketing
Sales
IT
PR
You will live with other teenagers and Projects Abroad staff at a local hostel.
Aims and impact of this Law and Business internship in China
The aim of this internship is to give you the opportunity to gain practical work experience in law and business. This is a different and exciting way to boost your CV, and it will also help you develop your personal skills. You'll improve your communication, and show that you are adaptable.
We'll give you a deeper insight into the Chinese legal system, focusing on commercial and corporate law. You'll work at companies, seeing first-hand what daily life is like for a business professional.
Join us and gain invaluable legal and business work experience, as you complete your internship in China.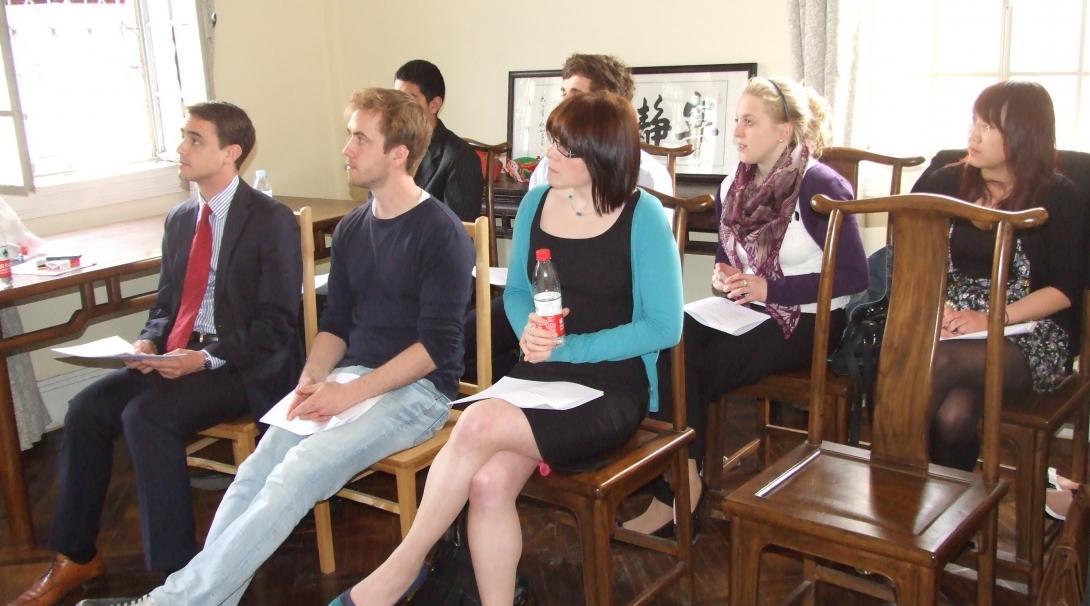 Measuring Our Impact
Every year, thousands of High School Special volunteers and interns actively make a difference around the world. During their time abroad, they contribute towards achieving long-term goals and make a long-lasting positive impact on the communities where they work.
We produce an annual High School Specials Impact Report, which documents some of these achievements. Find out more about the impact of these projects, and read the latest report.
Not quite what you're looking for?
Take a look at the following pages where you'll find collections of similar projects: